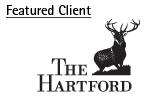 When The Hartford decided to take their Employer Perspectives newsletter digital, they turned to the team at EmailRelations.com to tackle the task.

EmailRelations.com is able to flawlessly distributed over 10,000 e-mails to their clients monthly in a high-end visually enhanced e-mail, and provide The Hartford with detailed statistics of user interaction.

The project for The Hartford began with the creation of a database of client contact information with our strategic partner, Advanced Printing. Advanced Printing would print and handle the postal mailing for the postal conversion. Prior to postal mailing our two teams associated each client name with a unique database code that was affixed to the postal mailing campaign encouraging customers to enroll in the new email marketing campaign via the web URL. Once a user received their postal mail they were directed to a URL where they typed their code. Their code linked and brought up their user contact information including name, position and employer. At that point they were able to make any corrections as well as opt into the email marketing campaign by supplying their email address.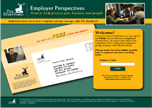 We had high hopes of converting the thousands of postal mailing customers to email. The new email marketing campaign has become not only a cost saver for The Hartford but an invaluable marketing tool allowing live statistics and tracking of all distributed emails blasts. The Hartford can get up to the date information on who has read email. Email forwards, bounced emails and much, much more. One of the best parts for The Hartford is being able to track exactly who has interest in email campaigns and the types of stories that are most read. This will allow The Hartford to tailor their campaigns to the customers needs.